This post was originally published on this site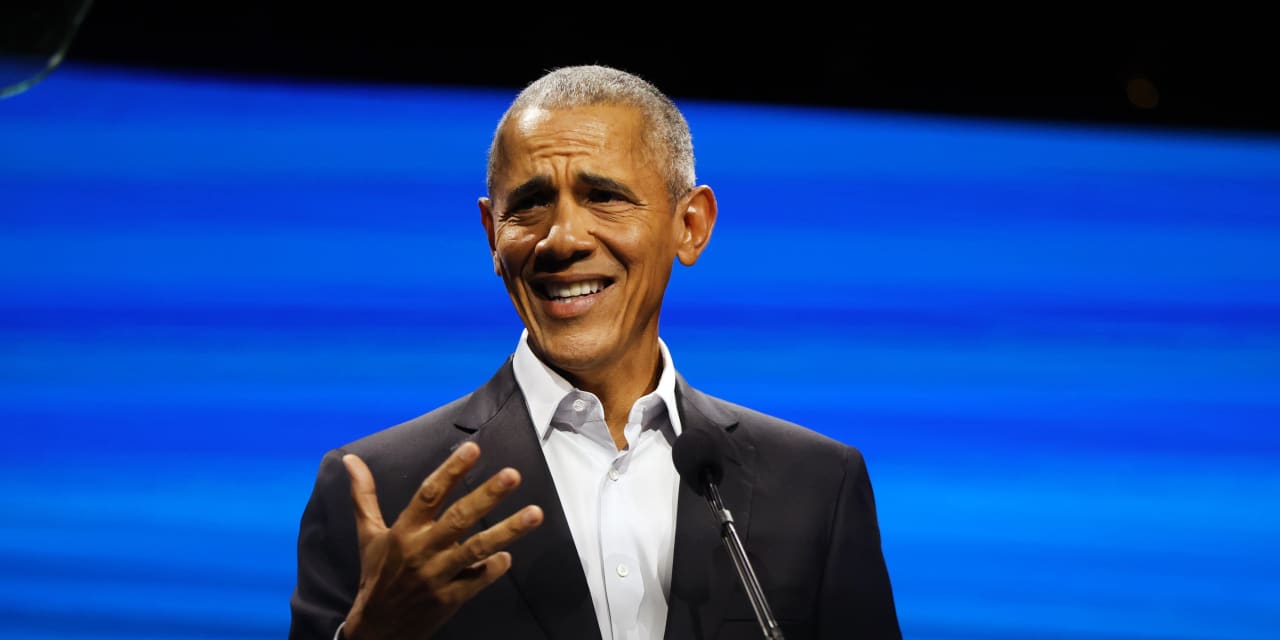 "'I would say 70% of the time being president is a hoot.' "
Former President Barack Obama, speaking with trailblazing public-radio host Ira Glass during a LinkedIn event focused on finding purpose at work, says he loved being president about 70% of the time. The other 30% he didn't enjoy quite so much.
"This, I think, is a pretty honest assessment — I would say 70% of the time being president is a hoot. I loved the job," Obama said during the Thursday-night event, which was streamed live and can be replayed on the Microsoft-owned
MSFT,
+2.14%
careers platform.
The LinkedIn discussion was centered on the former president's new Netflix
NFLX,
+5.54%
docuseries "Working: What We Do All Day," which "explores the meaning of work for modern Americans in a time of rapid change."
Related: Do happier workers lead to better investment returns?
Obama said that the best thing about the commander-in-chief job was the variety. "You have a bunch of difficult problems, but you're not locked into any kind of monotony," he said. He listed jobs he held before being elected a U.S. senator and then, soon thereafter, to the highest office in the land: waiting tables, working behind the counter at Baskin-Robbins, painting and construction, and the law.
"'If you're just doing the same thing over and over again, particularly if you're sitting or standing in one spot, that's not really how humans are built.'"
"One of the things that I think is tough oftentimes in modern work is monotony, right?" he continued. "If you're just doing the same thing over and over again, particularly if you're sitting or standing in one spot, that's not really how humans are built. And the nice thing about being president was that every day is different, and every hour within the day was different."
Obama cited two major components of the job that fall into that less enjoyable 30%. "Look, the 30%? Fundraising to get elected," Obama said. "Pretty much fundraising in any occupation. Just having to ask people for money in order to get things done … and I still have to do that sometimes for projects."
Second: confronting roadblocks in Congress.
"Dealing with members of Congress, for example, who are not actually trying to solve problems," he added. "There were some wonderful members I have worked with, but there were also those who were not about mission, not about a goal. Weren't straight with you."
Obama's frustrations in congressional negotiations are being aired at that same time that his vice president, current U.S. President Joe Biden, is negotiating a vital debt-ceiling agreement with Republican House Speaker Kevin McCarthy, after months of arguing that he welcomed only a "clean" bill authorizing the borrowing necessary to meet the federal government's debt obligations, with negotiations over whether and how to spend taxpayer money more properly addressed in the annual budget-writing process
Biden and fellow Democrats have, more recently, become immersed in talks to avert a market-shaking default, with Treasury Secretary Janet Yellen saying Friday that the government is set to exhaust available funds on June 5.
A potential compromise reportedly under discussion Friday would see the debt limit raised through the 2024 election, clawing back unspent COVID-19 aid and scaling down the tends of billions of dollars in increased funding of the IRS for tax enforcement, customer service and other agency needs.
Read on: Here's what's in the emerging debt-ceiling deal — such as a cut to the IRS