This post was originally published on this site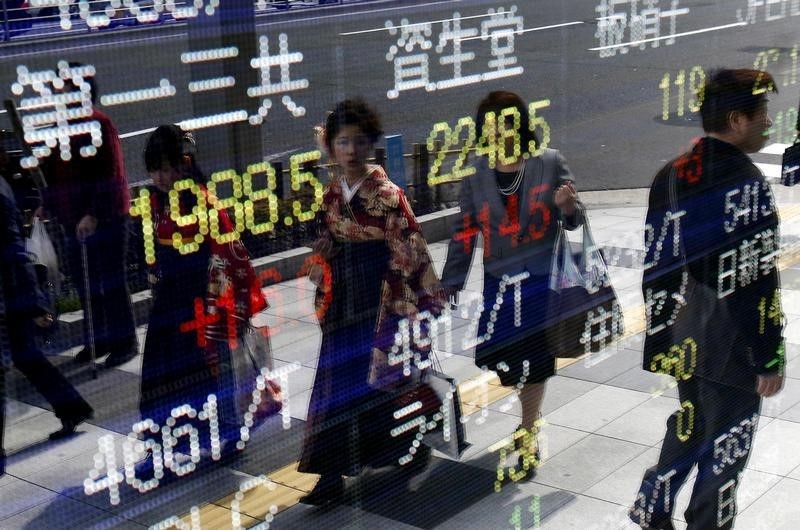 Investing.com – Asian stocks were up on Thursday with modest gains after U.S. pharmaceutical giant Pfizer (NYSE:PFE) reported positive results from one of its COVID-19 vaccine candidates on Wednesday.
Hong Kong's Hang Seng jumped 1.53% by 10:46 PM ET (3:46 AM GMT) on its first day of trading under the national security laws passed by the National People's Congress Standing Committee on Tuesday.
China's Shanghai Composite gained 0.80% and the Shenzhen Component was up 0.89%.
Japan's Nikkei 225 rose 0.44% and South Korea's KOSPI gained 0.88%
Down Under, the ASX 200 was up 1.03%.
Pfizer's early stage human trial for BNT162b1, one of four mRNA candidates currently under development by the company, saw the production of neutralizing antibodies in all the patients who were inoculated after 28 days.
But some investors urged calm and caution over the positive results from yet another vaccine candidate.
"We are cautious… we have received positive news about potential vaccines in the past, but all are yet to see widespread production and distribution," Joseph Capurso, head of international economics at Commonwealth Bank of Australia (OTC:CMWAY), said in a note.
Meanwhile, there are more than 10.6 million COVID-19 cases globally as of July 2, according to Johns Hopkins University data. The ever-rising number of cases prompted World Health Organization officials to warn that countries with increasing numbers of cases might need to reinstate lockdowns as well as other restrictions to curb the virus' spread.
"Some countries who have had success in suppressing transmission who are opening up now may have a setback, may have to implement interventions again, may have to implement these so-called lockdowns again. We hope not. We hope that we won't have to go into widespread lockdown again. So it's not too late to act fast," Maria Van Kerkhove, head of the WHO's emerging diseases and zoonosis unit, said during a press conference on Wednesday.
California re-imposed some lockdown measures, such as banning indoor restaurant dining and bar closures, on Wednesday to curb the spike of cases in the state.